Every year, summer league brings surprises and disappointments. The question is how much stock NBA teams should put in each.
We redrafted the 2018 class based on July's results. And some major changes were made. 
Top names have fallen because of exposed weaknesses that raise legitimate questions about their fit and transition from college to the pros.
On the other hand, there were prospects who made dramatic rises after looking like teams flat-out missed on them during the scouting process. 
This is how a new draft lottery would look if significant stock were put into summer-league performances.
1. Phoenix Suns: Deandre Ayton (Arizona, C, Freshman)
Ethan Miller/Getty Images
Original pick: No. 1
No additional questions or red flags popped up on Deandre Ayton following summer league. If anything, he helped validate the Phoenix Suns' decision to draft him first overall.
Ayton averaged 14.5 points and 10.5 rebounds per game on 59.5 percent shooting in Las Vegas, playing to his strengths within 15 feet while resisting the urge drift outside and shoot threes.
The 7'1″, 250-pound rookie looked dominant around the basket, tapping into his strength, length and athleticism to finish lobs and his guards' drive-and-dishes. And he flashed his soft touch on short-to-medium range jumpers.
Ayton also looked more comfortable defending from the center position after playing the 4 at Arizona. And despite the low shot-blocking rate (1.0 per game), his foot speed and wingspan point to room for improvement and plenty of defensive potential.
2. Sacramento Kings: Jaren Jackson Jr. (Michigan State, PF/C, Freshman)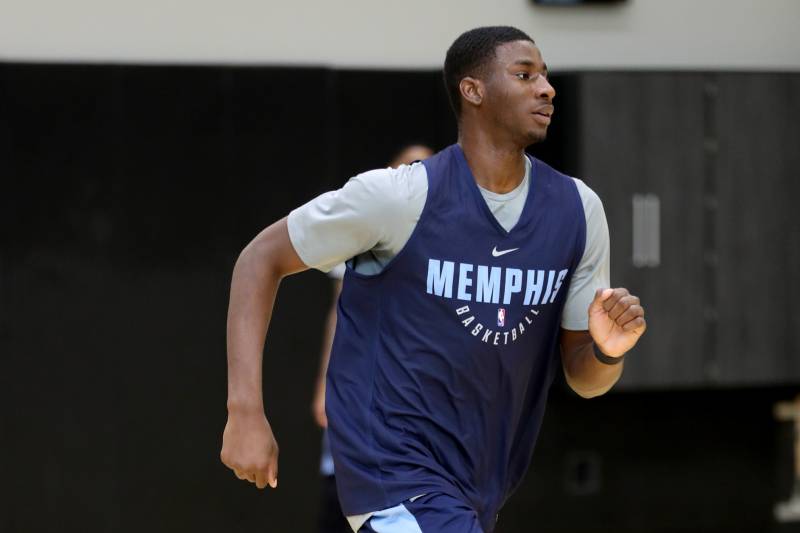 Joe Murphy/Getty Images
Original pick: No. 4
In a redraft, the Sacramento Kings would likely go big again, only with a different player. Jaren Jackson Jr. should now look like the better fit and higher-upside player than Marvin Bagley III, who was shooting 33.3 percent in Sacramento and Las Vegas before injuring his hip and groin.
Jackson opened summer league by drilling eight three-pointers during his debut with the Memphis Grizzlies, and after eight games, he finished 14-of-28 from behind the arc while averaging 3.3 blocks in just 24.9 minutes per game.
His ability to stretch the floor and protect the rim is rare and valued. And Jackson won't turn 19 years old until September. His window to continue improving as a face-up weapon and post scorer remains massive.
3. Atlanta Hawks: Luka Doncic (Slovenia, PG/SG, 1999)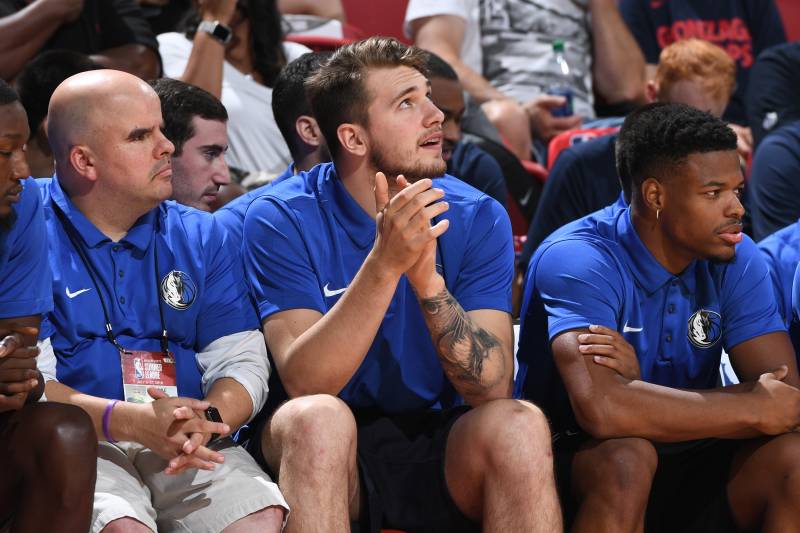 Garrett Ellwood/Getty Images
Original pick: No. 3
Luka Doncic didn't play in summer league, but Trae Young did. And though Young came alive over his final four games, he could have given Atlanta enough reasons to think twice (30.3 percent FG, 3.7 turnovers per game) about passing on or trading Luka Doncic, even with the Dallas Mavericks throwing in a future first-round pick.
No. 1 on Speedy Sport's board before the draft, Doncic has a unique ability to control and impact a game. And he offers the versatility to play on and off the ball, which would give the Hawks flexibility during their rebuild. 
At 19 years old, he was the MVP of Euroleague, widely regarded as the world's second-most competitive basketball setting. And with 6'6″ size, undeniable playmaking instincts, tight handles, a three-ball and a scoring ability that continues to improve, Doncic should translate his tools and skills into NBA success.
4. Memphis Grizzlies: Wendell Carter Jr. (Duke, PF/C, Freshman)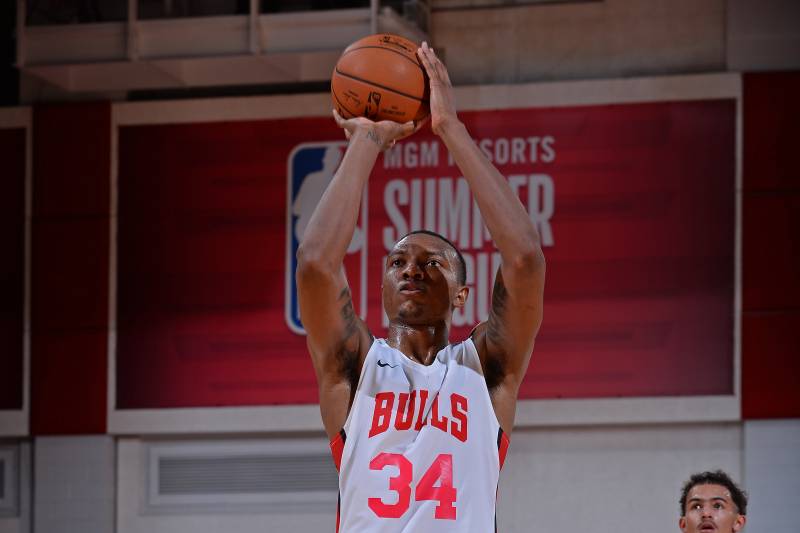 Bart Young/Getty Images
Original pick: No. 7
The Chicago Bulls are one of the big winners of summer league, mostly thanks to Wendell Carter Jr. He wouldn't get past the Grizzlies in a redraft with Ayton, Jackson and Doncic gone.
Carter averaged 14.6 points and 9.4 rebounds on 55.1 percent shooting, also flashing some range (three of seven three-pointers) and rim protection (2.6 blocks per game).
He looked slimmer and quicker in terms of first moves with the ball and lateral mobility, leading to more elusiveness as a scorer and defensive switchability. 
Strong, long and polished, Carter seems like a smoother fit than Bagley with equally attractive upside.
5. Dallas Mavericks: Kevin Knox (Kentucky, SF/PF, Freshman)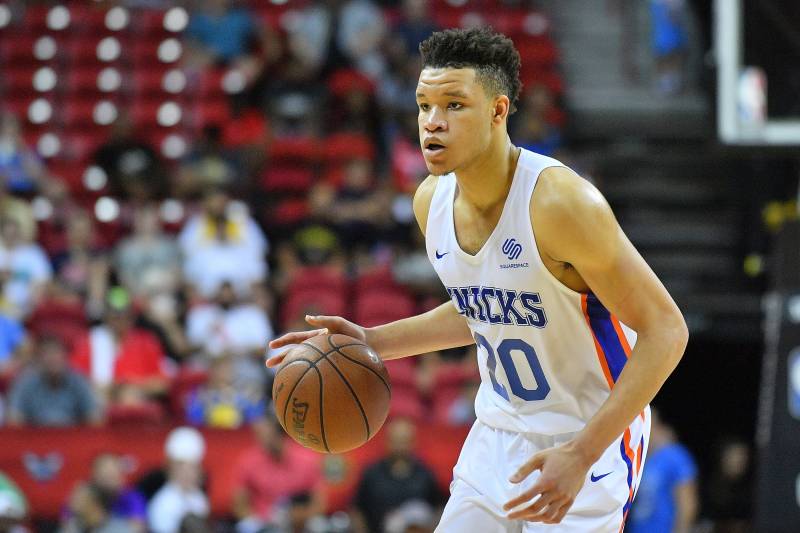 Sam Wasson/Getty Images
Original pick: No. 9
Kevin Knox's rise started during the predraft process, and it continued through summer league after he averaged 21.3 points per game for the New York Knicks.
He's also still 18 years old, while Mohamed Bamba, arguably the next-best prospect, turned 20 in May. 
The Dallas Mavericks would take Knox and do what the Knicks did: Give him more freedom to handle the ball and attack, something he didn't get to show as much at Kentucky. At 6'9″, Knox has a mix of size, athleticism and the ability to face up and blow past defenders. 
But he also made 10 threes in four games, showing both shooting range and the versatility to make shots working off the ball.
6. Orlando Magic: Mohamed Bamba (Texas, C, Freshman)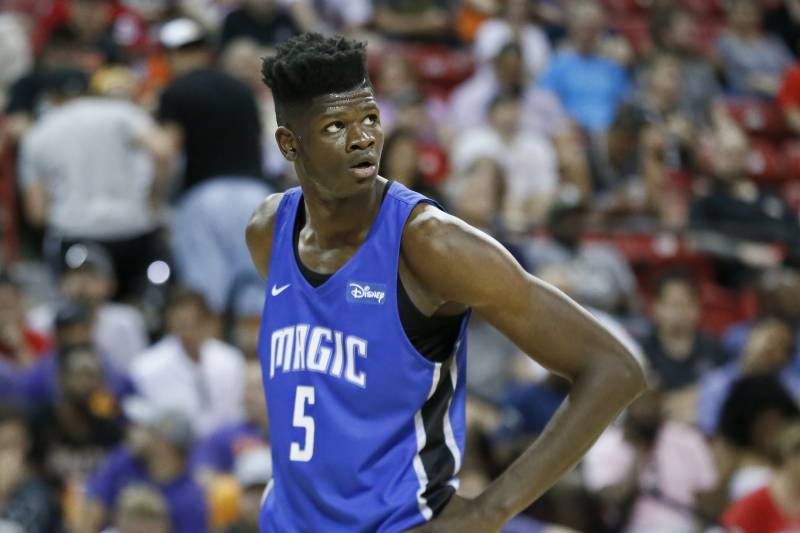 Chris Elise/Getty Images
Original pick: No. 6
The Orlando Magic wouldn't do anything different if Ayton, Jackson, Doncic, Carter and Knox were off the board. They'd still see Mohamed Bamba as the best player available and the one most likely to change and strengthen the team's identity.
He looked just fine through three summer-league games in Las Vegas, shooting 60.0 percent from the field and blocking 2.3 shots in 19.7 minutes per contest. The 7-footer presented himself as an easy-basket target high above the rim, while his mobility and extraordinary length showed up on a number of impressive rejections.
He also flashed the exciting shooting touch (made two threes) that's fueled unicorn comparisons and projections. Bamba's mechanics looked smoother, and though the sample size was limited, it remains easy to picture the jump shot eventually becoming a part of his everyday repertoire.
7. Chicago Bulls: Mitchell Robinson (1998, C)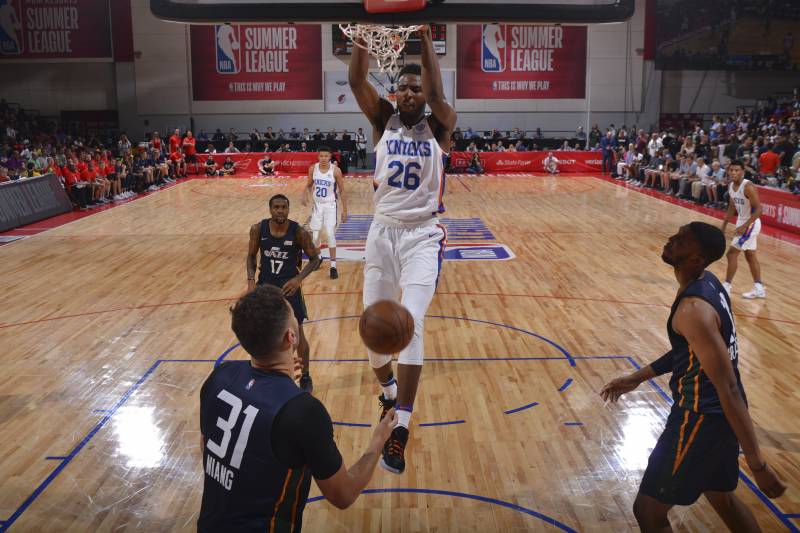 Bart Young/Getty Images
Original pick: No. 36
Carter played himself into the top six during summer league, forcing the Bulls to scramble in the redraft. But a new exciting big man has emerged as an option. 
Mitchell Robinson led all 2018 draft picks in player efficiency rating while in Las Vegas. His 4.0 blocks per game set a record, dating back to 2004, per RealGM.com.
Robinson also shot 66.7 percent and averaged 13.0 points and 10.2 rebounds in just 24.7 minutes per game, destroying opponents around the basket with his elite-level athleticism, energy and timing. 
And this was a kid who hadn't played a game of organized basketball in a year, considering he skipped his freshman season at Western Kentucky.
Robinson would fit nicely in Chicago alongside Lauri Markkanen, the more skilled, perimeter-oriented scorer.