The NBA offseason rarely disappoints, and the 2018 iteration has been no exception.
The transaction log may have outpaced the rumor mill, as one bombshell after another reshaped the hoops landscape.
LeBron James is a Laker; Paul George isn't. DeMarcus Cousins is a Warrior. Kawhi Leonard is a Raptor. DeMar DeRozan is a Spur. Carmelo Anthony is…in transit, but probably on his way to Houston.
Even with internet access and social media alerts, it's been exhausting to keep up with.
But looking back at everything that's happened, we can now zero in on the teams and players that stand as the clearest summer winners. We'll celebrate their accomplishments here with a group of awards highlighting offseason excellence.
Best Addition: LeBron James
1 OF 6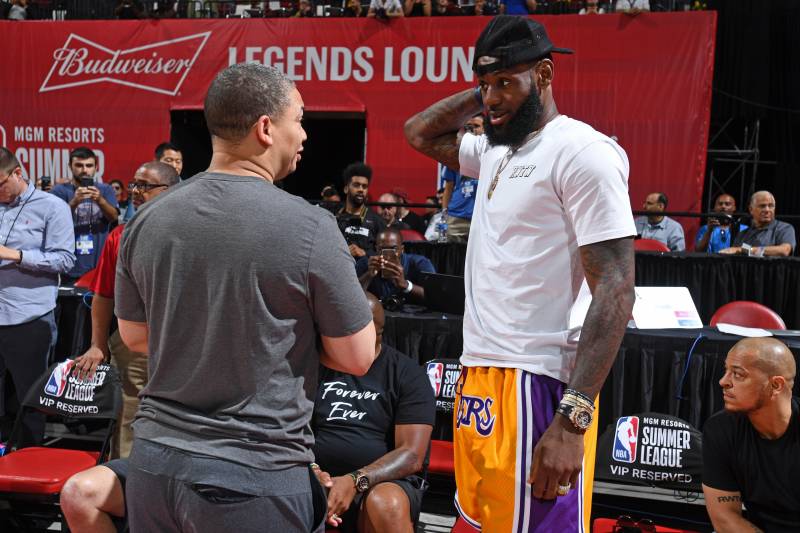 Garrett Ellwood/Getty Images
It goes without saying, but we'll present the argument for the sake of being thorough.
The Los Angeles Lakers—a headliner among the Association's marquee franchises—have needed a superstar to steer them out of their post-Kobe Bryant rut. Given the market, the exceptional expectations and the accompanying pressure, only a select number of larger-than-life megastars could possibly qualify.
But even among that rarified group, LeBron James is in a different galaxy than the rest.
He's one of only five players to ever win at least four MVP awards, and that's without all the hardware he lost to "voter fatigue." He's only 33 years old and already a top-15 career producer by points (seventh) and assists (11th). He has transformed his two previous employers into annual NBA finalists, possessing the ultra-elite ability of elevating everyone around him.
The Lakers were (relatively) struggling to retain relevance before James aligned his future with theirs. They've been the talk of the basketball world ever since.
"It's gonna be completely nuts, but it's also gonna be awesome," head coach Luke Walton told ESPN's Ramona Shelburne. "The whole city's gonna be behind us. We're gonna be on SportsCenter every night. If we lose, it's gonna be the end of the world. If we win, it's gonna be wild. But no matter what, it's gonna be fun."
Best In-House Signing: Paul George
2 OF 6

Sue Ogrocki/Associated Press
Save for LeBron, most of this summer's star free agents opted to stay put. That makes this honor fiercely contested.
But Paul George edges out the field for not only rewarding the Oklahoma City Thunder's gamble but also giving them the security of a four-year max agreement (player option after three). OKC had an uncertain path forward without George. With him, this could be one of the best teams in the West.
"The Thunder hit a winter groove after a rocky start and might have continued apace had Andre Roberson not ruptured his left patellar tendon," ESPN's Zach Lowe wrote. "The [Russell] Westbrook/George/Roberson/Steven Adams foursome was among the nastiest and best four-man groups in the league."
Lazy analysis says the Thunder were barely better after their 2017 makeover, finishing with only one more win and the same first-round exit. Digging a little deeper shows OKC sported a 4-3 record against Houston and Golden State, and the aforementioned quartet compiled a bulldozing plus-13.5 net rating.
While Kevin Durant is a superior talent, George's three-plus-option contract seems a safer investment than KD's one-plus-one. Since George is only 28, his deal also figures to age more favorably than 33-year-old Chris Paul's will. And the fact that George is an asset at both ends of the floor pushes him past offensive star Nikola Jokic.
Best Bargain: DeMarcus Cousins
3 OF 6

Chuck Burton/Associated Press
Don't overthink this.
Sure, DeMarcus Cousins is a bit of a wild card less than six months removed from his Achilles tear. And yeah, he's had some wince-worthy moments in his past.
But those were concerns to weigh for a major-money deal. The Dubs got him for $5.3 million. The potential reward is so rich, this becomes a no-risk investment.
Cousins is a four-time All-Star, and even that label fails to capture his talent level. Before the injury derailed his season, his stat line read 25.2 points, 12.9 rebounds, 5.4 assists, 2.2 threes, 1.6 steals and 1.6 blocks. No player had ever cleared even the first four marks, let alone supplied them while also forcing turnovers and blocking shots.
There aren't other players cut from this cloth. He's a 6'11", 270-pounder who can create off the dribble, pass well enough to be an offensive fulcrum and impress with both three-point efficiency and volume.
He's as uniquely gifted as the Warriors themselves, and his presence—even if it's delayed a bit by his recovery—strengthens what was already the best team in basketball.
"A healthy Cousins now makes them video-game unguardable," Joe Morgan wrote for Sporting News. "No matter what lineup the opposing teams puts on the floor, the Warriors will have an answer. There is no room for error on the other side."