Monday Morning Digest: Breakout Stars Ready to Dominate
Training Camp Digest: Baltimore Ravens
4 OF 10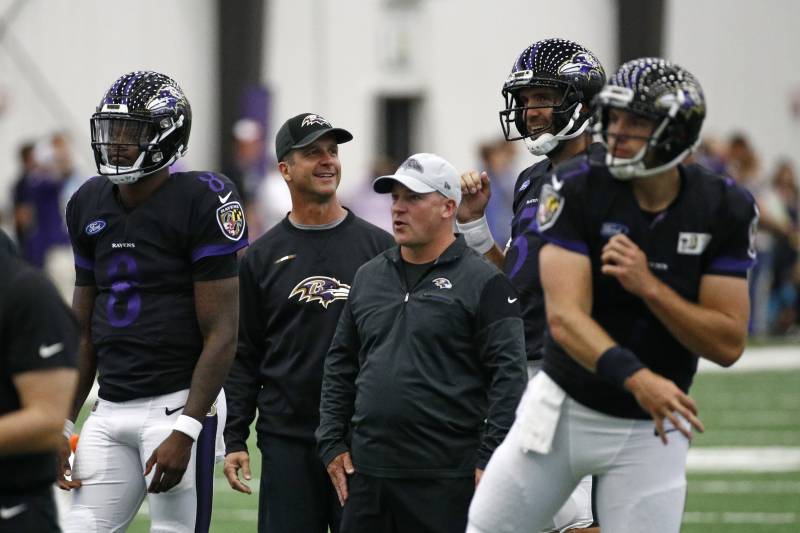 Patrick Semansky/Associated Press
Each week during the preseason, Digest will highlight a pair of teams with legit playoff aspirations and take a deep dive into their training camps. This week starts with the Ravens.
What's new
The Ravens added speed (John Brown), slot quickness (Willie Snead) and possession capability (Michael Crabtree) to their receiving corps, plus first-round tight end Hayden Hurst, who has battled hamstring injuries at the start of camp. The goal is to give starting quarterback Joe Flacco—yes, starting quarterback Joe Flacco—a chance to do more than dump the ball off in the flats.
Who to watch
• With no quarterback controversy brewing between Flacco and first-round pick Lamar Jackson—the rookie has a long way to go before he's a serious challenger to the much-maligned starter—all eyes will be on the controversial two-quarterback packages the Ravens started rolling out in camp this week. "I evaluate them like, 'Do they look terrible,' or, 'Do you look OK?'" John Harbaugh said of the two-quarterback gadget plays this week. Seriously, Coach: You should have been using that same litmus test on the whole offense for the past four years.
• Fantasy gamers should keep an eye on a stacked backfield. Alex Collins remains the starter, but Buck Allen is expected to retain a major role, and Kenneth Dixon returns to the rotation after missing 2017 with a meniscus tear (though Dixon has been in and out of practice with a hammy issue). The crowded backfield situation is made more complicated by the new receiving corps; again, there won't be as many six-yard swing passes to go around if everything goes according to plan.
• New defensive coordinator Don "Wink" Martindale (the nickname is a 70s game show reference; who says the Ravens aren't hip?) has tweaked the Ravens defense, allowing veterans like Eric Weddle and C.J. Mosley more flexibility to make their own pre-snap adjustments. Of course, no one ever worries about whether the Ravens defense will be good.
Bottom line
The Ravens are coming off a 9-7 season and a productive offseason, but all anyone wants to talk about is the rookie quarterback and the Wildcat gimmicks. But don't sleep on the team known for the NFL's sleepiest offense: No team comes at you when you least expect it quite like the Ravens.
Training Camp Digest: Green Bay Packers
5 OF 10

Morry Gash/Associated Press
Digest continues its twice-weekly training-camp deep dives on teams with legit playoff aspirations.
What's new
Aaron Rodgers is healthy and not muttering anything passive-aggressive about his contract situation. Jimmy Graham is already drawing rave reviews from both Rodgers and head coach Mike McCarthy. (No one is blocking in full pads yet.) But the biggest changes to watch are under the hood, as returning coordinator Joe Philbin tries to sweep the cobwebs off the offense while newcomer Mike Pettine finally drags the defense into the 21st century.
Who to watch
• Rodgers' first pass of camp was intercepted by second-year cornerback Kevin King (though Rodgers later disputed whether it was an interception). The pick prompted a lot of "Bench Rodgers" jokes on Twitter but was a revelatory moment for King, a 2017 second-round pick expected to spearhead a reconfigured secondary. Pettine has King and Davon House playing on the outside with veteran Tramon Williams in the slot in early practices, and everyone sounds more comfortable in their roles than they have in past years.
• Longtime Packers writer Aaron Nagler also reported that Pettine has his defenders walking through pre-snap adjustments to offensive motion, something that was never seen when Dom Capers ran the defense. Maybe Capers practiced these important adjustments when the media wasn't around. Or maybe he was still preparing his defense 1997-style.
• Bryan Bulaga has done some individual work in practices, and the Packers sound optimistic that the veteran right tackle will be ready for the season opener after last season's ACL injury. The Packers did little to address their offensive line depth in an otherwise productive offseason, and top backup tackles Kyle Murphy and Jason Spriggs each has his own injury concerns. Oh, did we mention that blocking-allergic Graham will be lining up next to the right tackle this year?
• The surprise early star of Packers camp is rookie punter JK Scott. Ryan Wood of the Green Bay Press-Gazette tweeted that Scott—who may be the youngest-looking guy in the NFL (he could pass as a junior YMCA lifeguard)—boomed a bunch of 60-yard kicks with 4.5-second hang time. Don't snicker at July camp punt lengths and hang-time reports—OK, snicker at them a little—but the Packers need to make marginal gains, like upgrades on special teams, if they want to do more than generate a bunch of Rodgers headlines and highlights before ending a season in disappointment as usual.
Bottom line
The Packers can win 10 to 11 games with a healthy Rodgers by doing what they always do. But both the Packers and their fans are tired of doing things the way they always do. Rodgers and Graham will get all of the attention, but if you are looking for the Packers to reinsert themselves into the Super Bowl conversation, it all comes down to the coordinators, the youngsters, the banged-up linemen and the tiny details.
Panic! on the PUP List
6 OF 10

John Minchillo/Associated Press
There's nothing worse than a key player starting camp physically unable to perform, or with a non-football injury, or with some other ailment or issue that lands him on one of the NFL's many varieties of "he ain't practicing" lists. Should you worry about your favorite player's absence? Digest is here to modulate your anxiety levels.
No worries
Alshon Jeffery, Wide Receiver, and Brandon Graham, Defensive End, Eagles: Both are on the PUP list after offseason surgeries. Jeffery has a Platinum Admiral's Preseason PUP List Membership Card but usually comes around just when he's needed, and Graham's absence only leaves the Eagles about 14 deep on the defensive line.
Lamarcus Joyner, Safety, Rams: He started camp on the non-football injury list, but no one is stressing in Los Angeles, because franchise-tagging a safety only to lose him to a brief mystery ailment is approximately the ninth-weirdest thing the Rams have done this offseason.
Cause for concern
Vontaze Burfict, Linebacker, Bengals: Burfict is on the non-football injury list for undisclosed reasons and will miss the start of the season with a suspension for the third straight year. The real cause for concern is that the Bengals keep relying on Burfict to be someone other than Burfict.
Tyler Eifert, Tight End, Bengals: Seriously, it's like Groundhog Day in Cincinnati. It would be big news if Eifert wasn't on the PUP list.
The Colts offensive line: THE FOOTBALL GODS DEMAND AN IRONIC SACRIFICE IN EXCHANGE FOR ANDREW LUCK'S HEALTH. GIVE UNTO US … ALL OF HIS BLOCKERS! MWAH-HA-HA-HA-HA! Granted, the ailments that landed left tackle Anthony Castonzo and right tackle Austin Howard on the PUP list aren't considered serious, and tackle Denzelle Good was briefly on the non-football injury list but quickly cleared. Then again, Luck's shoulder injury was originally classified as no big whoop, too.
PANIC!!!
Julius Peppers, Defensive End, Panthers: Maybe you should have found a quality backup for the 38-year-old coming off shoulder surgery you've penciled in as your top pass-rusher, guys.
Forrest Lamp, Offensive Line, Chargers: The Chargers are still targeting a Week 1 return from an ACL tear for one of last year's second-round picks. They also targeted Jason Verrett to get through the start of camp without a catastrophic injury. They're the Chargers, folks: They don't get to have nice things.
Maintain healthy perspective and priorities
Josh Gordon, Wide Receiver, Browns, and David Irving, Defensive Tackle, Cowboys: When it comes to substance abuse issues, always hope for the best and brace for the worst. Health—whether physical, mental or emotional—is much more important than wins and losses.