That's right folks: The NFL is back, and so is Monday Morning Digest!
In this week's special training camp kickoff edition, you'll find:
• Which young stars (other than Derrick Henry) are poised for breakout campaigns
• A Ravens preview that's about much more than the Joe Flacco-Lamar Jackson non-controversy
• A Packers preview that's about much more than Aaron Rodgers and Jimmy Graham
• All the holdout, PUP and contract news you can handle without needing a calculator or a pre-med degree
• Helicopters, Twitter rants and all the other telltale sights and sounds from the start of camp
• The Ultimate Rooting Guide, for new fans and old
All that and much, much more!
Derrick Henry, T.J. Watt Lead the Charge for Breakout Stars
1 OF 10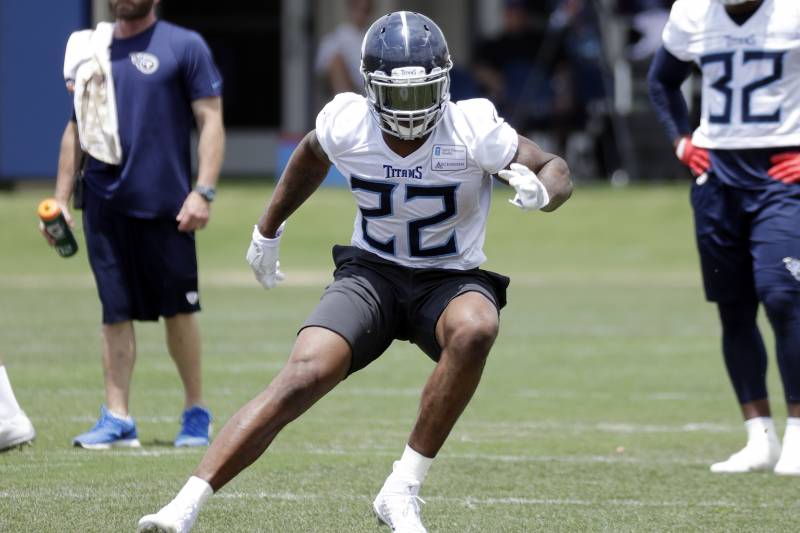 Mark Humphrey/Associated Press
Derrick Henry arrived at Titans camp on a mission.
"I definitely want to be dominant this year," he said in a start-of-camp press conference. "And any opportunities that I get, take the most advantage of them. Make plays for this offense, be a consistent back, make plays any chance that I'm in there and just do what I'm asked and help this team win games."
Henry will get a lot of opportunities this year. Mike Vrabel has replaced Mike Mularkey as the Titans head coach, which means no more 1950s Texas high school play-calling. DeMarco Murray is also gone, which means no more splitting carries to justify a veteran's paycheck. (Newcomer Dion Lewis will have a more defined passing-down role.) Henry is a lock for a 1,000-yard season, and the Titans—who are loaded with young veterans ready to break out—are poised to be stealth contenders in the AFC.
Rookies, big-name newcomers, veterans returning from injury and holdouts usually dominate the early-camp storylines. But young veterans poised to make that leap to superstardom, like Henry, are the players most likely to make the biggest difference once the season starts. Identify this year's Carson Wentz or Nelson Agholor, and you may just discover next year's Super Bowl winners.
Here are a few more second- and third-year vets who are ready to take that next step. We skipped some obvious choices—we'll have plenty to say about Patrick Mahomes, Deshaun Watson and Jimmy Garoppolo once the preseason action kicks off—to focus on other players who have generated early-camp buzz:
T.J. Watt, Edge-Rusher, Steelers
J.J.'s kid brother has bulked up a bit, is switching sides of the defensive formation and is eager to reveal a little more of his personality this season. "I was really quiet last year," Watt told Lance Allan of TMJ4 (via Simon Chester of Behind the Steel Curtain). "I was just trying to stick to the books and do as best as I can on the field. But now, I can have a little bit more of a personality, kind of just be an all-around great football player, but also be a great teammate for my guys." We know what a vocal, confident Watt looks like, and we like it.
Dalvin Cook, Running Back, Vikings
Cook averaged 4.8 yards per rush before his early-season ACL injury last year. He's a full participant in training camp and is running without a brace, which is great news for the Vikings. But if you wanna make a new offensive coordinator swoon (and get the playing time that comes with it), you gotta shine in pass protection for that $84 million quarterback. "He got into the blitz period yesterday, and he was assignment perfect," John DeFilippo told reporters. "I think that when you see a young player that understands protections the way he does at an early age, I think that's really unique." Swoon.
Josh Doctson, Wide Receiver, Redskins
Doctson had an MRI exam on his Achilles this week (gasp), but it revealed nothing (phew). "Nothing showed up, so why would it be alarming?" Jay Gruden asked reporters. Um, well, Coach, it's alarming because Doctson lost most of his 2016 rookie season to injuries and the whole Skins roster looked like an urgent care facility last year. But Doctson flashed big-play potential last year and is penciled in as Alex Smith's primary target this year. If he's healthy, Doctson could be this year's Agholor.
Solomon Thomas, Defensive Line, 49ers
The third pick in last year's draft struggled with the transition from interior defender to edge-rusher last year. Well, who wouldn't? Thomas is expected to play more of a Leo role this season while also taking some interior snaps on passing downs. A little bigger and a lot more experienced, he will become the sack producer the 49ers desperately need if he can apply the quickness and power he demonstrated at Stanford to his new role.
Chidobe Awuzie, Cornerback, Cowboys
Awuzie flashed Pro Bowl potential at cornerback in a handful of rookie starts after missing the beginning of last season with a hamstring injury. But there were offseason rumors that the Cowboys would move Awuzie over to safety. So far in minicamp and training camp, he appears to be locked in at cornerback. "I definitely know what the safeties do, but right now it's pretty confirmed that I'll play corner," he told reporters before the start of camp. Smart move: Awuzie may be a useful safety or slot defender in certain packages, but he has the talent and temperament of a shutdown cornerback.
Sights and Sounds of the Start of Camp
2 OF 10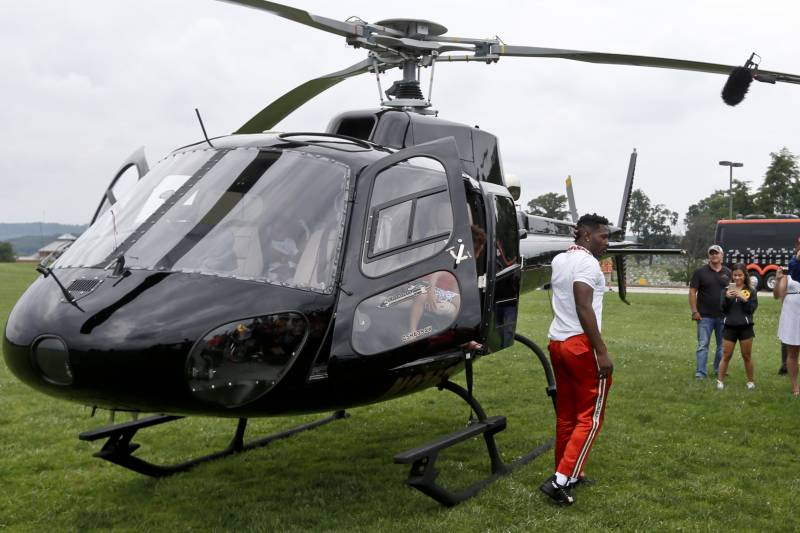 Keith Srakocic/Associated Press
From splashy arrivals to creepy tattoos to Twitter rants, the NFL announced its return to work this week as only the NFL can. Here are the highlights:
Antonio Brown arrives at Steelers camp via helicopter
Le'Veon Bell ain't showing up until he can arrive via Brinks truck.
Tom Brady shuts down his press conference after an Alex Guerrero question
Everything is 100 percent fine and normal in Foxborough as long as no one ever mentions the quarterback's personal trainer/confidant/guru who mysteriously holds undetermined power over the organization by name, got it? In a franchise run by Bill Belichick, who would have thought some fitness dude would end up being Voldemort?
Baker Mayfield and Tyrod Taylor have a private "quarterbacks only" RV at Browns headquarters
What a coincidence: Most Browns quarterbacks end up living in a van down by the river.
Chris Long reveals a tattoo of Eagles assistant coach Ken Flajole on his torso
That Eddie Vedder tattoo you got in '93 doesn't seem so embarrassing anymore.
Andrew Luck looked rusty in Indy's first practice (…but he practiced)
It's the headline Colts fans craved in 2017. But in 2018!
Jon Gruden hasn't spoken to contract holdout Khalil Mack at all since taking over as head coach, per ESPN's Adam Schefter (or maybe did once after taking the job but hasn't since, as Gruden told radio host JT The Brick)
Sun Tzu, as quoted by Vince Lombardi, as paraphrased by some dude on Reddit, as interpreted by Jon Gruden, said it best: "Doing everything you can to alienate and not communicate with your most indispensable employees is great leadership!"   
Cowboys doing yoga at training camp
"Everybody is cool with it," Jourdan Lewis said, per Charean Williams of Pro Football Talk. "Everybody is a manly man and understand this is just to prolong their career." No one tell Jerry Jones. Or Jon Gruden. Or Larry Fedora. Or Papa John. And just to be safe, don't mention it to Tom Brady.
Dez Bryant goes ham on Twitter
Bryant responded to out-of-context Stephen Jones remarks by dragging everyone from former head coach Jason Garrett to teammates Sean Lee (Dez called him "Snake" Lee) and Travis Frederick. That'll prove the critics wrong for calling him a bad locker room influence!
Financial Digest
3 OF 10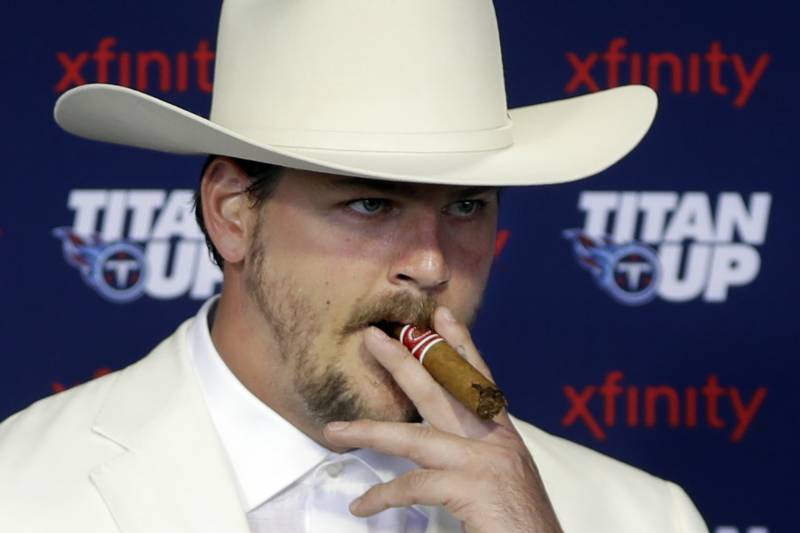 Mark Humphrey/Associated Press
Who got paid? Who didn't get paid? Who had better get paid soon? There's more action on the budget spreadsheet than on the field in the opening days of camp. And as always, Digest is all about the money:
Julio Jones reports to camp after agreeing to a contract restructuring
Falcons fans can now stop worrying about whether the team will be able to use Jones at all and start worrying about how they will misuse him.
Falcons extend coach Dan Quinn and general manager Thomas Dimitroff through the 2022 season.
Wait: Management took care of itself financially before taking care of the most valuable employees? That's not how business works! (Narrator: That's precisely how business works.)
Titans tackle Taylor Lewan signs a five-year, reported $80 million extension; wears a Boss Hogg costume to the signing ceremony
So…Boss Hogg isn't considered "problematic" these days? The crooked Hazard County politician was always trying to apprehend the Duke Boys and their Confederate Flag-emblazoned General Lee, so maybe he was actually…woke? Nothing makes sense anymore. (Narrator: The Dukes of Hazzard never made sense.)
Falcons tackle Jake Matthews signs five-year, $75 million extension almost simultaneously with Lewan
The left tackle market is resetting, which is why the Falcons needed budget flexibility, which is why they couldn't just drop a zillion dollars on a receiver with three years left on his contract, which is why guys like Dimitroff get big bucks while the rest of us just yell, "Pay Julio!" on radio shows. Remember this next time there's a sticky holdout situation, folks. (Narrator: No one would.)
Seahawks give Duane Brown a three-year, $36.5 million extension
Brown is good, but he looks like a cross between Orlando Pace and the Hulk compared to the rest of the Seahawks line, so of course the Seahawks front office (which has made some odd decisions lately) has decided to pay the almost-33-year-old the Pace-Hulk rate.
Earl Thomas holds out of Seahawks camp
This is turning into the most awkward breakup since my prom date left me in the middle of "At This Moment" to make out in the corner with Carmine Capocollo.
Todd Gurley a signs four-year contract extension with $45 million in guarantees
The people most outraged by the Gurley extension:
• Le'Veon Bell
• Julio Jones
• Aaron Donald
• Other teams (no one likes it when the market is reset)
• Either the Rams in three years when Gurley is worn out or Gurley in three years when he is an all-time great and pulls a Julio Jones for more money