Final MLB Trade Predictions for All 30 Teams 1 Day from the Deadline
Los Angeles Angels: They'll Keep Andrew Heaney and Tyler Skaggs
13 OF 30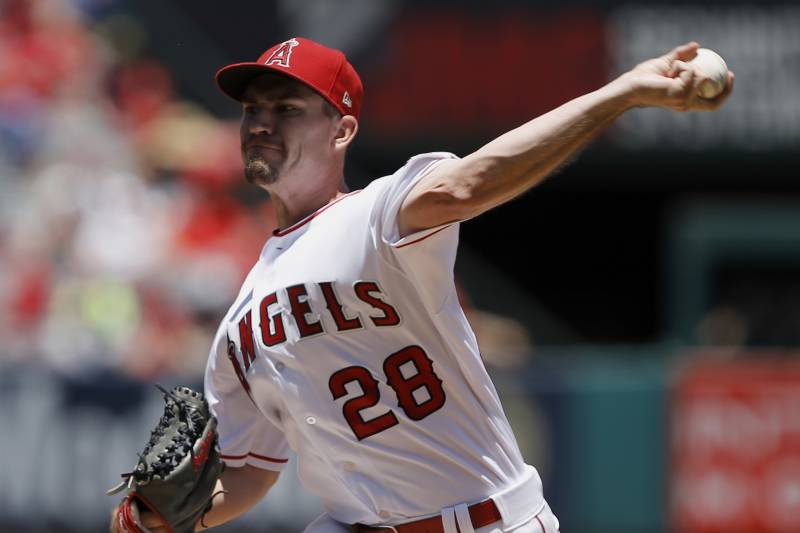 Alex Gallardo/Associated Press
Maldonado probably won't be the last player the Angels trade. They have a handful of relievers they can cash in, plus a few veteran rentals (such as Ian Kinsler) who might fit on needy contenders.
And yet, expect them to draw a line at Andrew Heaney and Tyler Skaggs.
The two left-handers have been the subject of plenty of rumors in recent weeks, and why not? Skaggs boasts a 2.62 ERA, and he's controlled through 2020. Heaney has a 3.64 ERA, and he's controlled through 2021.
Per Ken Rosenthal of The Athletic, however, the Angels have "no interest" in moving either of them.
Nor should they, given that they certainly don't have to and that they're not looking to rebuild. Indeed, they'll be looking to make the most of 2019 and 2020, which are the final years of Mike Trout's contract.
Los Angeles Dodgers: They'll Go off the Board for Jose Leclerc
14 OF 30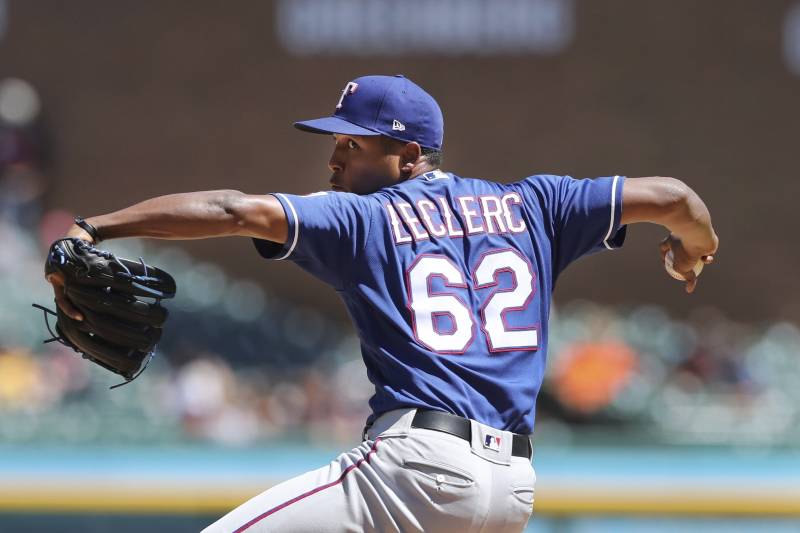 Carlos Osorio/Associated Press
The Los Angeles Dodgers pulled off a monumental score when they landed Machado on July 18. But they're not done yet.
According to Nightengale, Los Angeles' next target is a reliever who can help out Kenley Jansen. With obvious candidates to fill that role evaporating off the trade market at a rapid pace, perhaps the Dodgers will go off the board for an unusual suspect.
For example: Jose Leclerc.
The right-hander is making a name for himself with a 2.39 ERA and 53 strikeouts through 37.2 innings for the Rangers. He works off a mid-90sfastball that has loads of spin.
That makes him an ideal fit for a Dodgers bullpen that ranks third in fastball spin rate. As a bonus, they would control Leclerc through 2022.
Miami Marlins: J.T. Realmuto Won't Be Going Anywhere
15 OF 30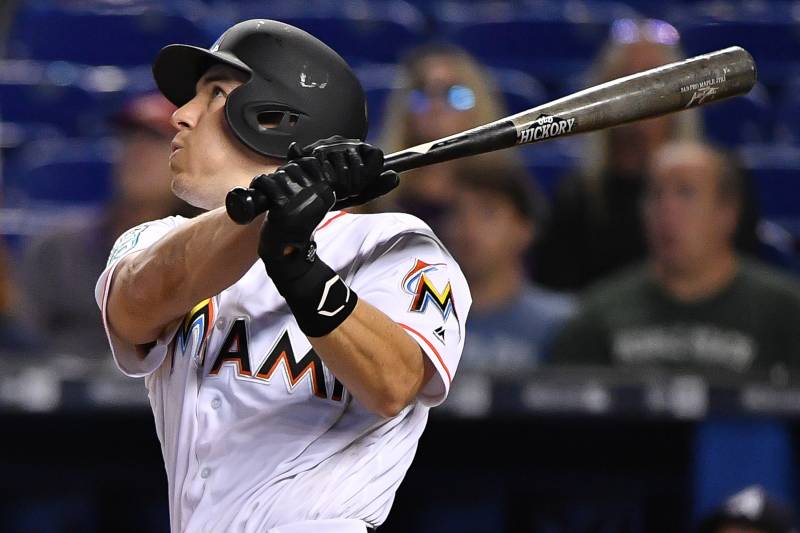 Mark Brown/Getty Images
In all likelihood, Ziegler and Dietrich won't be the only Marlins on their way out of Miami before Tuesday's deadline.
But J.T. Realmuto? Nah.
The 27-year-old catcher has become the best position player on the market amid an All-Star breakout that's highlighted by an .897 OPS. To boot, he's under team control through 2020.
However, he's only "on the market" because the Marlins aren't in a position to hang up on interested parties. To that end, the Washington Nationals may be the only one. And as their hopes of winning the NL East fade, so too might their willingness to meet Miami's asking price.
According to Joe Frisaro of MLB.com, that involves Victor Robles and Carter Kieboom. Since they're the two best prospects Washington has, that can only increase the likelihood of a "nope" from Washington.
Milwaukee Brewers: They'll Finish with Zack Wheeler
16 OF 30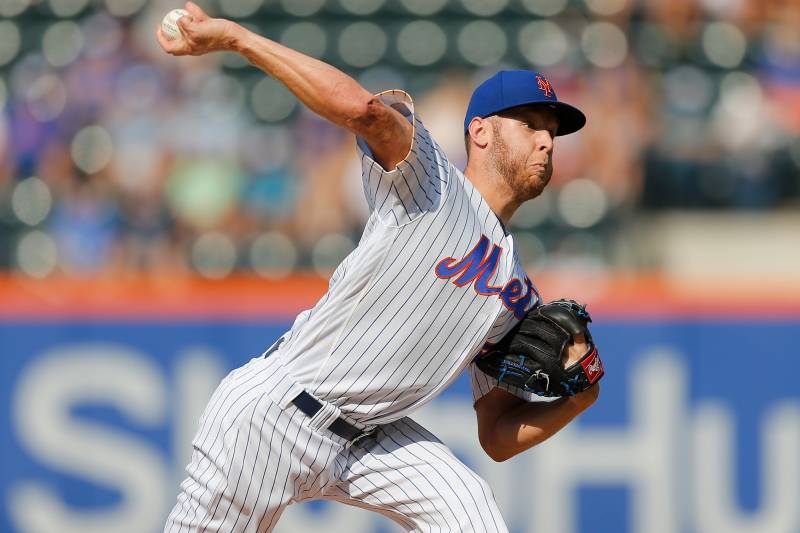 Jim McIsaac/Getty Images
Now that the Milwaukee Brewers have shored up their bullpen with Soriaand their lineup with Moustakas, their next move must be to add an impact starter.
Milwaukee's rotation has mostly held together in 2018, but the injury bug is testing its depth. Brent Suter is out of the picture with Tommy John surgery, and neither Jimmy Nelson nor Zach Davies is returning soon.
According to Rosenthal, Zack Wheeler is one of the pitchers the Brewers have had on their radar. The Mets' right-hander is also one of the hottest pitchers on the market. He has a 3.54 ERA over his last 12 starts, courtesy of rising velocity and a decreasing contact rate.
The Brewers might be the only team that needs Wheeler as a true No. 1 starter. Throw in how he would still be around in 2019 in case things don't work out this year, and he's a fit for them every which way.
Minnesota Twins: Ervin Santana Won't Pitch His Way out of Town
17 OF 30
Tom Szczerbowski/Getty Images
Quite a few players are going to be on their way out of Minnesota in the next 24 hours or so, but don't expect Ervin Santana to be one of them.
Despite having his 2018 debut delayed until July 25 by finger surgery, Passan reports there's a good deal of interest in Santana. After all, he's an accomplished veteran who was an All-Star and Cy Young Award candidate just last year.
However, it sure seems like Santana needs more time to get his groove back. Although his first start off the DL wasn't a total disaster, his fastball velocity was way down and his contact rate was way up.
Rather than jump the gun, contenders are more likely to wait and see if Santana rebuilds his value during the August waiver period. Failing that, the Twins have the option of holding on to him for 2019.
New York Mets: For the Last Time, Jacob deGrom and Noah Syndergaard Are Staying
18 OF 30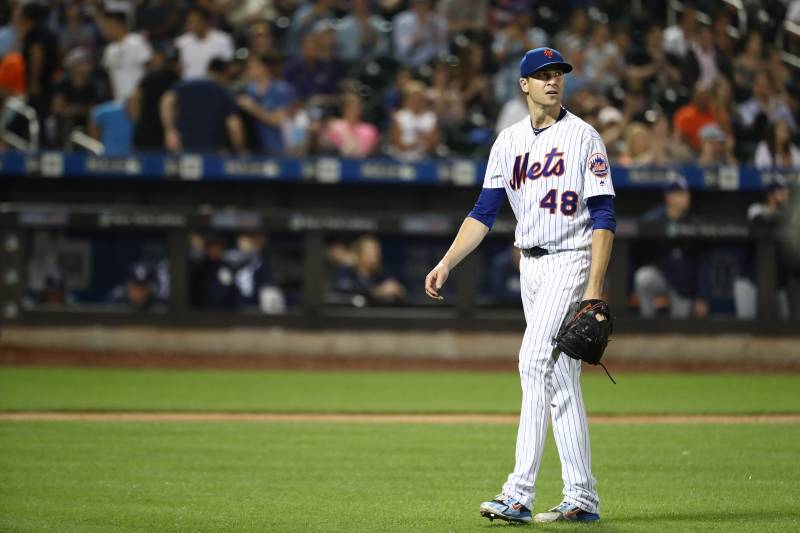 Al Bello/Getty Images
It's been loads of fun to speculate about where the Mets might trade Jacob deGrom and/or Noah Syndergaard, as well as what kind of prospect riches they might get for them.
Yet, it's never been likely that either would actually go anywhere. And so it goes now.
Although reports have consistently stated the Mets are willing to listen on deGrom and Syndergaard, there's also been a consistent sense that they won't move either right-hander unless they're completely overwhelmed. Rightfully so, given that the Mets control both aces for several more years.
With Syndergaard's value diminished by frequent trips to the DL over the last two years, the chances of somebody satisfying the Mets with an offer for him are probably zip. While deGrom's value is in far better shape, the list of teams that both need him and can trade for him looks pretty much empty at this point.